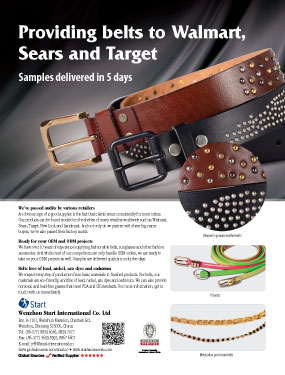 Share:




E-mail

Print

Bookmark
Wenzhou Start International (Accessories) Co. Ltd

Follow me

Walmart, Sears, Target, New Look and Landmark source from us

Since 2008 | Samples ready in 5 days | Passed audits by various retailers

6 Star China (mainland)

Credit Check - Supplier Credit Profile

provides impartial credit and vital business metrics for select suppliers on Global Sources Online. Using the Credit Check reports, buyers can easily compare key indicators and more efficiently manage risk. Suppliers with a Credit Check logo have agreed to allow this information to be reported to help buyers streamline the selection and due-diligence processes.

The supplier information below has been obtained from relevant government agencies in the supplier's country and is subjected to change without prior notice. Credit Check and verification procedures were conducted by Sinotrust, a third-party credit agency.
Read Disclaimer


Registered Address:
Room 803 Building A Tianhe Building Chezhan Avenue
Wenzhou City
Zhejiang Province China

Incorporation Date:
March 22, 2010
Legal Form:
Limited liability company
Company Status:
Live
Registration Agency:
Wenzhou Municipal Administration for Industry & Commerce
Registration Number:
330302000072750
Authorized Capital:
RMB 500,000
Paid-Up Capital:
RMB 500,000
Legal Representatives:
CHEN Jianyun
Import & Export Licences Obtained:
Yes
Business Scope:
Sale of glasses (by a license if optometry business is involved), and optical equipment, apparels, clothing accessories, toys, arts & crafts, beddings, daily necessities, cosmetics and electronic products, as well as import and export of goods and technologies
Business Permit Expiry:
March 21, 2020
Shareholders:
• ZHOU Xiaoyan
• CHEN Jianyun




Want a more detailed Credit Report on this supplier?



Authenticated and verified by:
Sinotrust


On October 21, 2010

Contact Details

Wenzhou Start International (Accessories) Co. Ltd
Room A-1101, Wanshun Mansion
Chezhan Road
Wenzhou
Zhejiang
China 325000
Tel: (86 577) 8839 6066 (86 577) 8839 7077
Fax: (86 577) 8867 6607 / (86 577) 5699 8995


E-mail:

Homepage Address
http://www.globalsources.com/startacc.co
Other Homepage Address
www.startaccessories.com


Chat with supplier using:

Key Contact:
Mr Chan, Jeff
General Manager


Administrative Office Address

Room 803, Building A
Tianhe Mansion
Wenzhou
Zhejiang
China (mainland)


Supplier and product information updated December 03, 2013.
Verified Business Registration Details
Registered Company: 温州新方国际贸易有限公司
Business Registration Number: 330302000072750
Company Registration Address: 温州市车站大道天和大厦A幢803室


* In some jurisdictions, company names and addresses are registered in Chinese only.